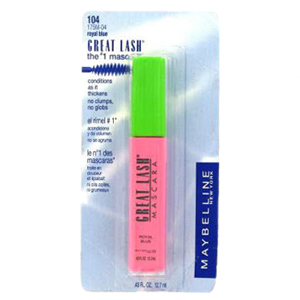 I finally opened up this mascara yesterday after having it for a few months...I kept it sealed in the packaging though so it kept. It was a buy one get one free deal so my mom bought one and gave me the free one. I usually never wear mascara because I used to only wear glasses and when I would wear mascara my eyelashes would hit my glasses and it was annoying. I finally have contacts though and now wear them when I go out so I can start wearing mascara!
I really don't know the price of the mascara since I didn't buy it but I think it is somewhere around $3 a tube, which is a great price. The site says its contact wearer safe so perfect for me and it is hypoallergenic.
I'm unsure about this mascara right now. I have mixed feelings about it. Some qualities of it I like and some I hate. My first impressions are that it goes on well, it doesn't clump at all and I didn't have to comb through my lashes a ton of times to get it to look nice. It also didn't feel like I was wearing mascara it felt natural enough and my eyelashes weren't overly stiff. The brush was a nice size as well and made it easier to apply. It dries very fast as well which is a plus for me because I don't like the ones that take forever to dry or feel sticky. I didn't like that my eyelashes stuck straight out and no amount of curling them could make them do anything other than stick straight out. It's not overly dark or anything either. I don't like the natural look of it, if I wanted a natural look I wouldn't use mascara since my lashes are already thick and dark.
When I had to take my contacts out last night the mascara didn't come off with my contacts so that was a great plus since it stayed on my lashes and didn't end up on my contacts. It took forever to actually wash it off my lashes though, that was a huge con. This stuff is waterproof and then some. I think I may actually still have some on my lashes because I gave up after about 15min. I tried makeup remover pads and it took some of it off but I noticed after not all of it, so then I tried soap and water and that took a bit more off but still not sure all of it came off, at that point my eyes were sore from rubbing them so I stopped trying to take it off. The website for maybelline says to use their makeup remover to take it off but that is just a marketing tactic, my mom said to use baby oil because that is what she uses and it takes it off really well. I hate baby oil on my eyes though it makes my eyes blurry and greasy feeling and I hate that.
Pros
applys well
doesn't clump
lightweight doesn't feel heavy
brush is nice
quick drying
doesn't come off when I take my contacts out
inexpensive

Cons
did nothing special for my lashes
lashes stuck straight out and didn't curl at all no matter what
not very dark looks very subtle you can hardly notice it
had a hard time removing it at the end of the day tried makeup remover and soap and water and nothing seemed to take it off 100%
Overall I would give this product a 2/10.
I wasn't overly wowed but it works average, would I buy it? Probably not I prefer my mascara to show up a bit more when I use it. I also like something that helps curl my lashes and comes off a bit easier.
Edited to add: Yesterday was day two of wearing this mascara and I officially hate it. Last night I spent so long trying to get the mascara off that I now have an open sore on the corner of my eye that is so very painful. :( I think I am finished with using this mascara and will switch to the covergirl stuff I have that says it comes off with soap and water. Oh and I did use baby oil and it still didn't come off...I am pretty sure I still have 75% of the mascara still on my lashes.